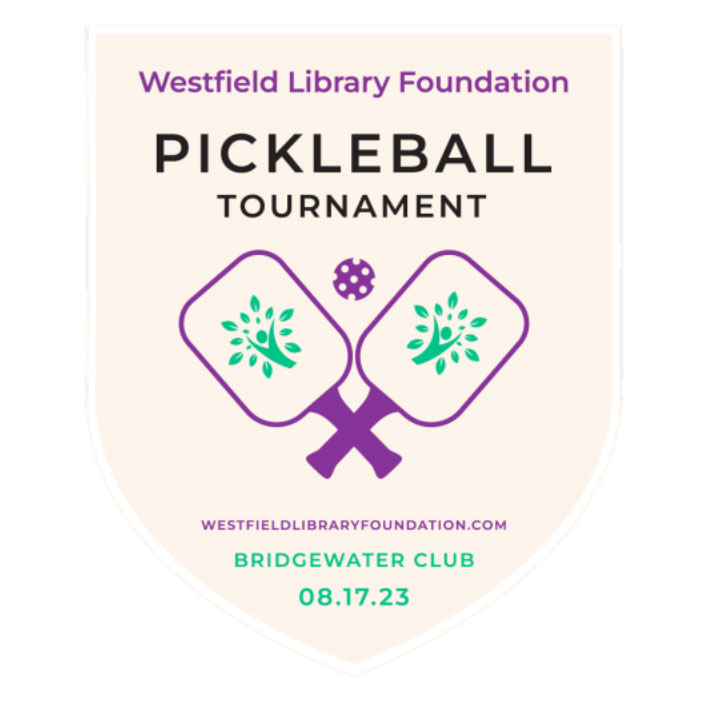 The Westfield Library Foundation is excited to announce that we will be hosting our first Pickleball Tournament on Thursday, August 17th at the Bridgewater Country Club – you do not have to be a Bridgewater member to participate. All proceeds from the tournament and silent auction will be used for new programming, technology and inspired learning spaces at the new Westfield Washington Public Library.
The tournament will be a Round Robin Format consisting of 4 sessions, 12 teams per
session:
Session I – 8:00 a.m. – 9:50 a.m. – Skill Level 2.5-3.0
Session II – 10:00 a.m. – 11:50 a.m. – Skill Level 3.0-3.5
Session III – 1:00 p.m. – 2:50 p.m. – Skill Level 3.5-4.0
Session IV – 3:00 p.m. – 4:50 p.m. – Skill Level 4.0-4.5
If your ideal session is full, you may still sign up to be put on the waitlist. If a spot opens up, we will contact your team prior to the tournament.
How to participate:
Grab a friend and form a team (each team is made up of two players/one pair of doubles)If at any point your team is unable to play and you must pull your team, please contact Erin Downey at edowney@wwpl.lib.in.us.
Fill out the sign-up form (only one of the two players needs to complete the form). The entry fee is $250 per team and will cover you and your partner's playing fee, 2 drink tickets for the bar, and boxed lunches.
Review our rules and playing procedures upon sign-up.